Poisonous Plants
which may be dangerous to llamas
or other livestock

If you suspect that one of your animals has eaten
a poisonous plant, call your veterinarian immediately for advice.

if you need help quickly
The Animal Poison Control Centre
at the University of Illinois
has a toll-free number:
1-888-426-4435

Imagine taking a couple of your favourite llamas to visit a local hospital at Christmas. There are Rhododendron, Laurel, and Christmas Rose shrubs near the walkways. The building is covered in Ivy. Inside there are potted plants, Christmas Cherries and Poinsettias. The halls are decorated with Holly and Mistletoe. The llamas are impressed, it looks like a salad bar, but all the plants mentioned above are poisonous.

This list of plants covers some of the poisonous plants found in British Columbia and the surrounding areas. It is not intended as a definitive text on poisonous plants, but hopefully it will make llama owners aware of some of the things to watch out for. As an example, while gathering information for this, we discovered Deadly Nightshade in two areas on our farm, one patch growing through the fence into the llama pasture.

All of the plants listed may not be poisonous to llamas, but there are reports of them all being toxic in varying degrees. Some only need the consumption of a couple of leaves or berries to be fatal where others may only cause a bit of stomach upset. Most of the books that the information has been gleaned from refer to the poisonous effects on humans, rather than the effects on livestock.

Index of Poisonous Plants:
Links to more information on poisonous plants:

Animal Poison Control Center

Canadian Poisonous Plants Information System

Serenata Flowers

Cornell University

Index of Poisons

LocalVets.com

Poisonous Plant Guide, Nova Scotia

Poisonous Plants of North Carolina

Plants Toxic to Animals

USDA ARS Poisonous Plant Research Laboratory

Plant Corner A valuable plant information resource website.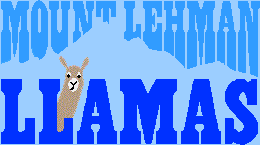 Brian and Jane Pinkerton
29343 Galahad Crescent
Mount Lehman
British Columbia
Canada V4X 2E4

Phone: 604-856-3196
e-mail address:

Mount Lehman Llamas Farm Page • Llama Question and Answer Page • Llama Trivia