Welcome to
mountlehmanllamas.com
The Mount Lehman Llamas (dot calm)
set of pages consists of three major parts: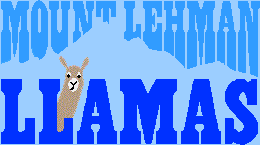 Looking for a great gift for a knitter?
Check out these great Knitting Kits
They include patterns and the various lengths and colours of spun llama fibre
needed to make a selection of hats and scarves.
You could also knit these for yourself or as finished items for gifts

The Farm site shows some of our sale animals we have, plus a text version of
plants that may be poisonous to llamas and a new version with photos of poisonous plants.

There is also a selection of "just for fun" pages
where you will find llamas in very unusual situations,
such as this photo of a llama checking out the Rover on Mars in January of 2004.

If you would like a tongue in cheek photography lesson
you can see many of the ways that llamas will ruin your photos.
Speaking of photos, we even have llama photos in 3-D
and also stereoviews taken around the farm and stereoviews taken on llama hikes.


You might like to see a picture of our latest adoptee, his name is Andean Archie.

We also have photos of our hiking trip to the Kananaskis area as well as
a slide show of the trip.
There are links to a number of other trips as well.

If you hike with your llamas, you might want to make a llama boot to carry with you
in case one of your llamas gets a cut on its foot.
This page has the instructions and patterns to make one.

We have recently uploaded a new page of our favourite llama photos
and a page of miscellaneous snapshots around the farm.

Clicking on a thumbnail below will take you to a jigsaw puzzle made from our photos:







You might want to build a hay feeder for your llamas, this one has a shelter where the llamas can access the feeder from four sides. We also have another style of hay feeder showing how to recycle an old satellite dish.

You can also see what a llama chute looks like
or find out exactly what is needed for llama fencing.

The Question and Answer site consists of fifteen pages
of questions about dealing with llamas with illustrated answers.

Some infrequently asked questions are answered here for your amusement.

One of the most popular parts of this site are the llama sounds where you can hear a large selection of the vocalizations that llamas make. There is also a page with a short history of llamas that you might find interesting.

There is also a section on llama fibre with knitting patterns, kits for making hats, dyeing instructions, and much more.

A set of pages designed to ease new owner's worries when they are expecting a cria are the birthing pages which are illustrated with all the different stages of a llama birth. When you want to re-breed the mother, the re-breeding page allows you to run a 30-day chart to determine which days will be the best.

Another page now allows you to calculate when your cria is due.
Many breeders worry when the gestation lasts about a full year,
this will predict it ahead of time.


If you like art, you might like to visit our gallery of infamous paintings by well-known artists. You probably didn't realize that Rembrandt had a llama.

When people visit our farm, they always want to see our art galleries.
Barn Toulouse and The Monet Pit are the two llama barns, the walls of which
are covered with paintings, which have been meticulously chosen
from thrift shops and garage sales.
Some of the best (worst?) of our barn art are shown here.

For twenty years I have been trying
to get a photo of a llama spitting but it proved impossible
until I finally got a video of a llama spitting
which is presented here for your viewing pleasure (?).

We have just uploaded a couple of videos of llamas fighting.
They are pretty large files, one is half a meg and the other is four and a half megs.
There is also a page with some still pictures from the video.
Now we also have videos of llamas running.

The trivia section of the site has a hundred pages of llama stuff. There are well over 1,000 pictures, so beware, you could waste a lot of time here.

In February of 2004 we were featured as the Farm of the Month in the Llama Crossing Newsletter which was pretty exciting for us. Back in May of 1995 we were featured in an article in Llamas Magazine and we have reprinted it on our site figuring that most folks reading this won't have a copy of that magazine handy.

There is much more to this site than than what is listed above,
you might want to check out the directory to see some of the other pages offered.

We also have a new site page index organized by categories.


If you are looking for llama information, scroll through the menu below to see if your questions have been answered.

List of questions:
If you can't find what you need on our site,
there are several hundred llama related links on our links page.

We would love to hear from you:

Letter of the month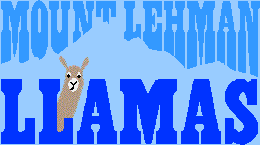 Brian and Jane Pinkerton
29343 Galahad Crescent
Mount Lehman
British Columbia
Canada V4X 2E4

Phone: 604-856-3196
e-mail address:

Mount Lehman Llamas Farm Page • Llama Question and Answer Page • Llama Trivia