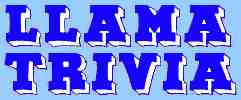 These pages are a collection of odd pictures
and trivia about llamas.

(They are not for sale, they are simply for your entertainment.)

Postcards — Llamas in Zoos and Game Farms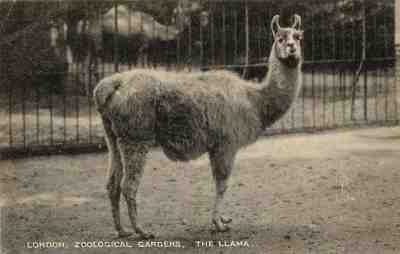 This postcard from the London Zoo
is from 1918.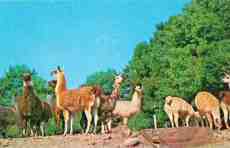 Postcard from the
Catskill Game Farm
from around 1960.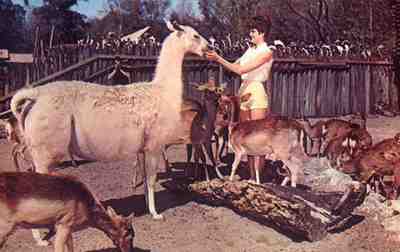 The caption on this postcard
from the 1960s says
"Ranch at Florida's Silver Springs
is fed, along with the deer,
by a delighted visitor."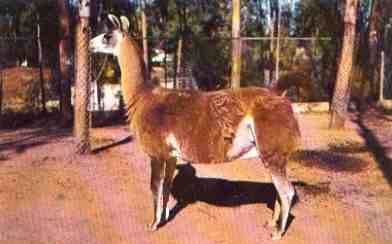 A San Diego Zoo postcard
from the 1970s.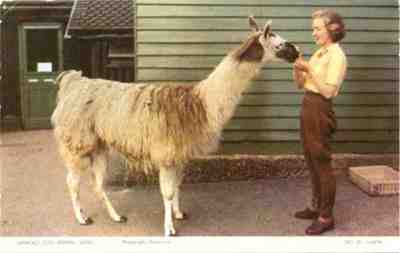 This postcard from the 1950s
is number twenty in the
Jarrold Zoo Animal Series.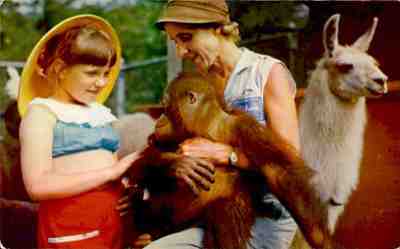 This photochrome (1939 to 1962)
postcard is captioned on the back,
Chicago's New Zoo at Brookfield, Illinois
Children's Zoo and Farm:
The Zoo at Brookfield has within its grounds
a separate Children's Zoo and Farm
where children of all ages may see
and touch baby animals such as
the young orangutan, "Felix"
and Llama, "Rosita" shown here.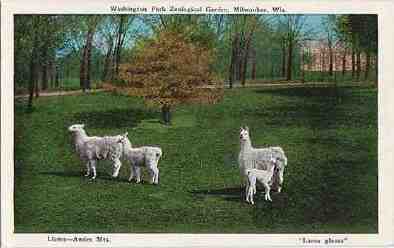 This postcard (1915-30) is from
the Milwaukee Washington Park Zoo.

Washington Park Zoological Garden,
Milwaukee, Wisconsin.
Llama — Andes Mts. "Lama glama"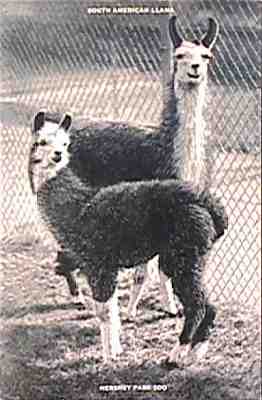 A postcard from the
Hershey Park Zoo in Pennsylvania.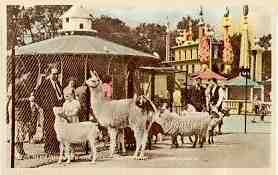 A Festival Gardens postcard.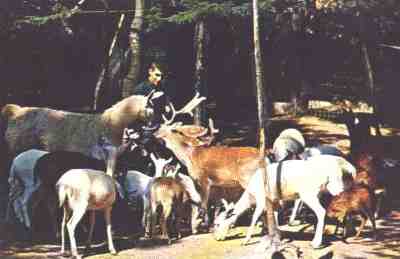 Animal Forest Park, York Beach, Maine
On the back of the card it states:
"In our main feeding grounds
over 100 loose animals from
all over the world will respond
to your call, and rush up to nudge
tidbits from your hand."

More Llama Trivia Pages:

Visit some of our other web pages:


Brian and Jane Pinkerton
29343 Galahad Crescent
Mount Lehman
British Columbia
Canada V4X 2E4

Phone: 604-856-3196
E-mail address: brianp@smartt.com




Mount Lehman Llamas Farm Page • Llama Question and Answer Page • Llama Trivia