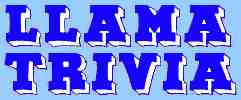 These pages are a collection of odd pictures
and trivia about llamas.

(They are not for sale, they are simply for your entertainment.)

More Anaglyph 3D Pictures of Llamas

We have converted the 3-D stereoviews on the Trivia Page 46 to anaglyph format
so that they can be seen by using a set of red/blue anaglyph glasses.
If you don't have any of these glasses lying around,
you can get a set of free anaylph glasses
by sending a stamped self-addressed envelope to this 3-D supply company.
There are also anaglyph glasses in some issues of magazines
that you might have lying around such as
the August 1998 National Geographic or the winter issue of Sports Illustrated.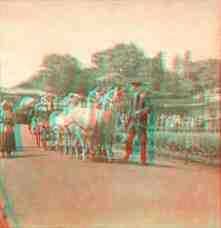 Four llamas pulling a cart in the London Zoological Gardens.
This steroview is titled "London Zoo, Llama Four in Hand".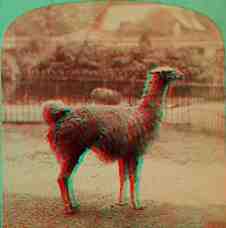 This stereoview says:
Animals in the gardens of the Zoological Society of London.
On the bottom it says "Llama, Auchena Glama".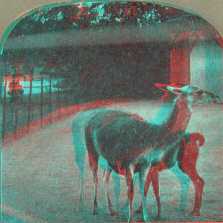 The title on this stereo picture is "Llamas in the Columbo Botanical Gardens".
(These two animals look suspiciously like guancos though.)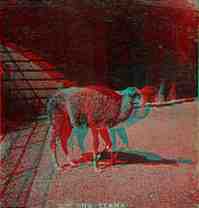 The title on this stereoview is "The Llama".
It is an actual photo glued to a card.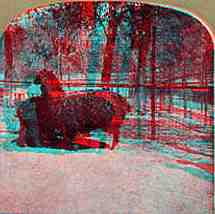 The title on this stereoview is "1229 South American Llamas".
(I would suspect though, that they are actually alpacas.)
It is a two-sided card with kangaroos on the other side,
part of a set of photos taken in Central Park, New York.

The title on this stereoview is "Llamas in Zoo, Buenos Aires".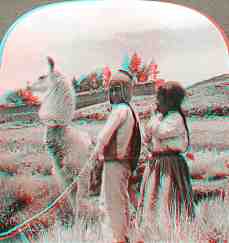 The title on this stereoview is "In the Highlands of Bolivia — Native Children with a Pet Llama".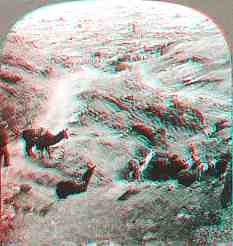 This stereoview is titled "The Town of Oruro in the Tin-Mining Center of Bolivia, South America.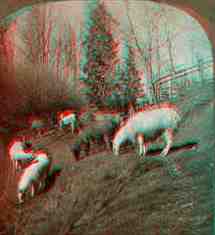 This is a very rare stereoview, in fact it is the only one in existence.
It dates from the latter part of the last century
and shows a llama herd in Mount Lehman.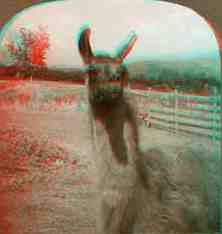 Another rare stereoview which dates from nineties in the last century
shows a llama named Pinky in Mount Lehman.


We have some colour stereo pictures of some of our llamas as well as
some 3-D pictures taken around the farm plus some stereo llama hiking pictures.

More Llama Trivia Pages:

Visit some of our other web pages: