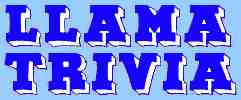 These pages are a collection of odd pictures
and trivia about llamas.

(They are not for sale, they are simply for your entertainment.)

Llama Postcards — Zoos and Game Farms








The back of this poscard reads
"Inti" The sacred white Llama.

Sterling Alaska Fur & Game Farms
established 1915, Lake Placid, New York.















This old linen post card shows
the Municipal Zoo at Fairmount Park,
Duluth, Minnesota as it looked in the 1940s.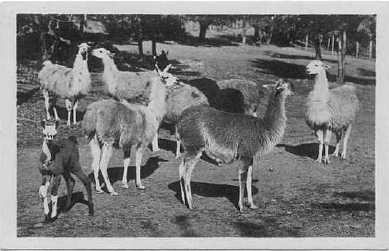 This postcard
from 1977
is of the
Catskill Game Farm
Many of the llamas
in North America
have bloodlines from here.







This
vintage
postcard
is from the
Belle Isle Zoo
in Detroit,
Michigan.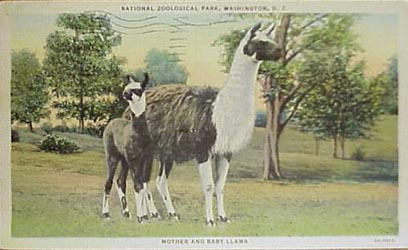 "Mother and Baby Llama"
This 1944 postcard is from the
National Zoological park in Washington, D.C.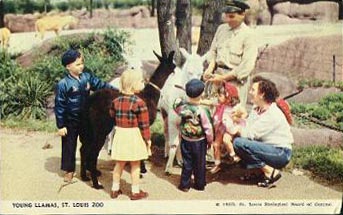 A 1953 postcard
titled "Young Llamas"
from the St. Louis Zoo.





A postcard
showing a couple of llamas
at the Buffalo Ranch
near Afton, Oklahoma.









A postcard with children
petting a llama at Circus World Museum,
Barabao, Wisconsin.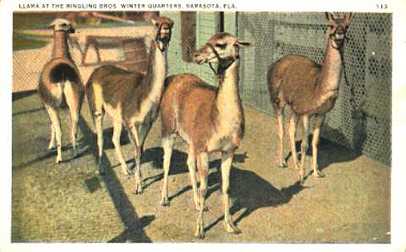 A postcard from between
1915 and 1930 showing some llamas
in Ringling Brothers Winter Quarters
in Sarasota, Florida.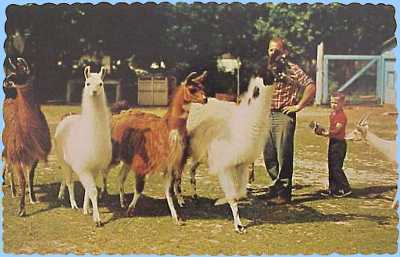 A llama
postcard
from the
Bowmanville Zoo
in Ontario,
Canada.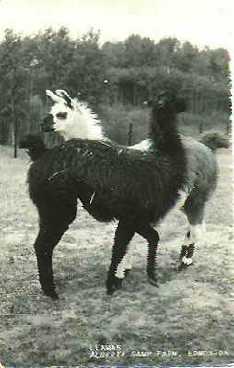 This postcard
from 1962 is titled
"Llamas — Alberta
Game Farm, Edmonton."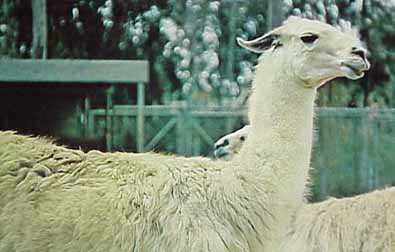 A vintage postcard
from the San Diego Zoo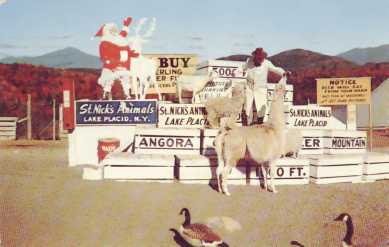 This postcard, from the 1950s
shows the Sterling-Alaska Fur & Game Farm
in Lake Placid, New York.

The show was called: "St. Nick's Animals"
and the keeper was showing a llama
(they were rather rare in the area back then)
with a sheep and a goat on a stage.

One sign advertises:
"Notice — Deer Will Eat from Your Hands,
Buy Food at Machines and Get Good Pictures."




More Llama Trivia Pages:


Visit some of our other web pages:





Brian and Jane Pinkerton

29343 Galahad Crescent
Mount Lehman
British Columbia
Canada V4X 2E4

Phone: 604-856-3196
E-mail address: brianp@smartt.com




Mount Lehman Llamas Farm Page • Llama Question and Answer Page • Llama Trivia