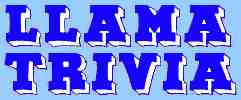 These pages are a collection of odd pictures
and trivia about llamas.

(They are not for sale, they are simply for your entertainment.)

Old Pictures and Postcards of Llamas



This is a chromolithograph
from Johnson's Household Book of Nature
printed in 1880.
It shows a Llama, a Vicugna, an Alpaca
and a Bactrian Camel.

The modern spelling for vicugna is vicuña.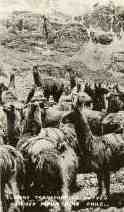 This Chilean postcard
of a herd of llamas
has a photograph
that was taken in the 1930s.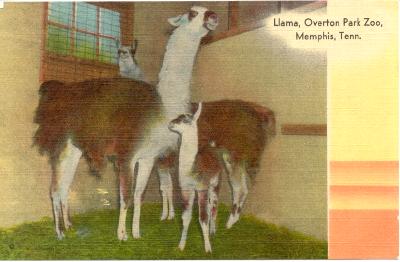 This postcard of a llama and her cria is from the Overton Park Zoo in Memphis, Tennessee. It dates from the 1930s or 1940s.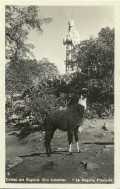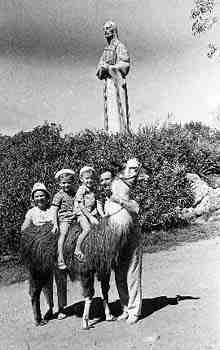 This 1945 postcard
from Rio Ceballos
is titled
Cristo del Ñuporá
"La Negrita Florinda".






Juan Carlos Carri of Buenos Aires, Argentina saw this postcard and sent
the photo on the right which was taken in 1961 and wrote the following:

The "Cristo de Ñu-Porᔠis one of the tourist attractions of the village of Río Ceballos, and it is surrounded by very beautiful green hills. The llama is "imported" from the north of Argentine, it's not common now, because the man, llamas, alpacas, vicuñas, etc., have a wide distribution in the country.

Riding the llama are my brothers Jorge and Hugo Carri.




A postcard which was
mailed from Bolivia in 1942.
The title at the bottom is
"Grupo de llamas - Bolivia".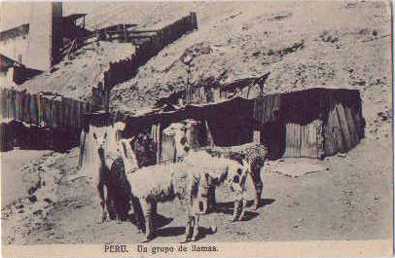 This postcard from Peru
dates from 1910.

It is titled
"Un Grupo de llamas".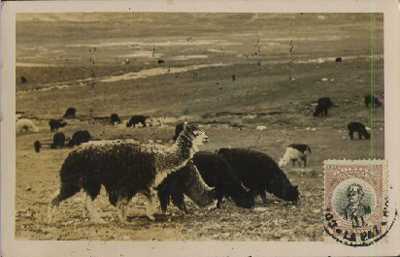 This postcard,
mailed from La Paz, Bolivia
shows alpacas.



The title of this hand-coloured engraving, which was published in 1825, is "Chimborazo as seen from the Plain of Tapia".
Chimborazo, at 20,561 feet, one of the highest mountains in the Andes is located in Ecuador. It is one of the first mountains that the Conquistadores would have seen on their way to Peru and that is the reason that we called one of our Conquistador offsprings Chimborazo.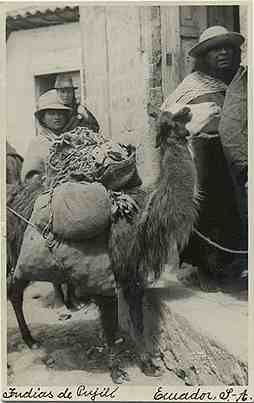 The writing
on the bottom
of this
Ecuadorian postcard
from 1953
is "Indios de Pujili".

Pujili
is a small town
about halfway
between Quito and
Mount Chimborazo.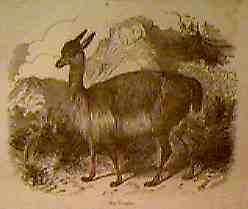 This picture of a
"vicugna" or vicuña
is from an
Illustrated Encyclopedia
published in 1856.





I have no information
on where this postcard
is from.
More Llama Trivia Pages:

Visit some of our other web pages:


Brian and Jane Pinkerton
29343 Galahad Crescent
Mount Lehman
British Columbia
Canada V4X 2E4

Phone: 604-856-3196
E-mail address: brianp@smartt.com



Mount Lehman Llamas Farm Page • Llama Question and Answer Page • Llama Trivia