Mount Lehman Llamas Photo Index
To make it easier for students or anyone looking for llama pictures
we have posted thumbnails of some of our photos on this page.
These are only a few of our pictures as it would be impractical, if not impossible
to show them all as there are around 2,500 pictures on our pages at this time.

If you can't find one you want,
sorry, but you may just have to browse our site for a while

Click on a thumbnail to open a new window with the selected photo.
Miscellaneous Llama Photos
















Llama Cria Pictures






Llama Hiking Pictures










Llama and Alpaca Pictures from South America













Llama Hay Feeders


Llama Anaglyphs




(red/blue glasses needed to view these pictures)
Mount Lehman Llamas Site List A guide to the rest of our web pages.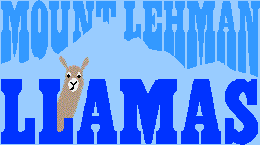 Brian and Jane Pinkerton
29343 Galahad Crescent
Mount Lehman
British Columbia
Canada V4X 2E4

Phone: 604-856-3196
E-mail address: brianp@smartt.com


Mount Lehman Llamas Home Page • Farm Page • Llama Question and Answer Page