Open House — 2003
On May 3rd and 4th we co-hosted an open house with Trev and Rose-Ann Lewis at Amistoso Llamas in Popkum, BC.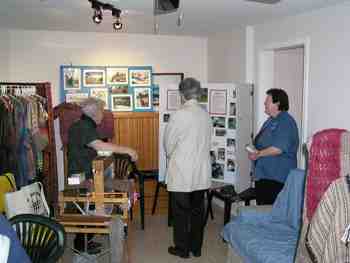 As the weather was rather threatening with rain showers, all the displays were inside the house.

On May 10th and 11th the open house was at our farm in Mount Lehman.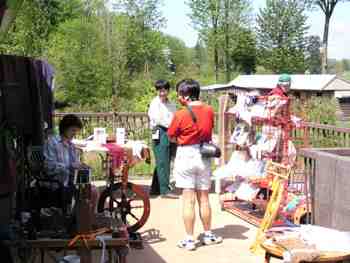 Saturday morning was bright and sunny which was a relief so everything could be displayed out on the sun deck. The first visitors are watching Marie Seabrook demonstrating spinning.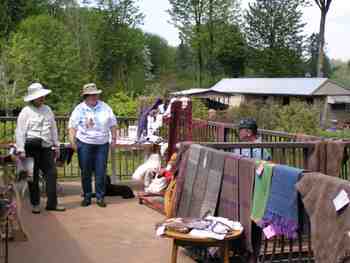 Rose-Ann Lewis is showing a visitor some of the items made of llama fibre.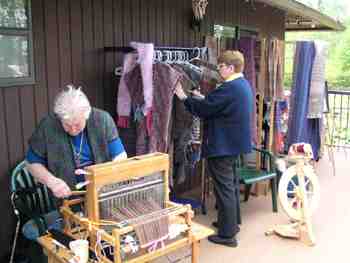 Another visitor is admiring some of Elfrida Lambert's weaving while she is setting up her loom.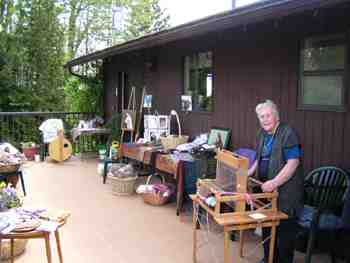 Elfrida Lambert is ready to start demonstrating the art of weaving.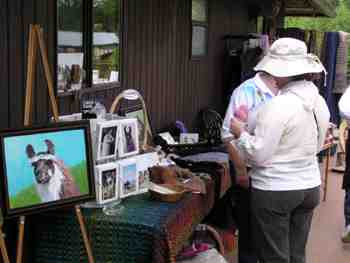 A guest is browsing through some of the smaller fibre items and llama cards and paintings.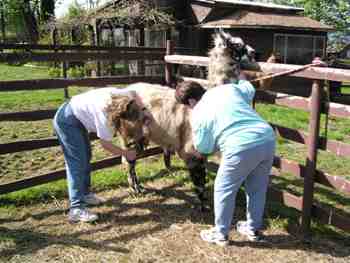 Trev Lewis brought his llama chute and decided to demonstrate shearing in the afternoon. Doris Smith and June Steinman cleaned up Driz before he got his haircut.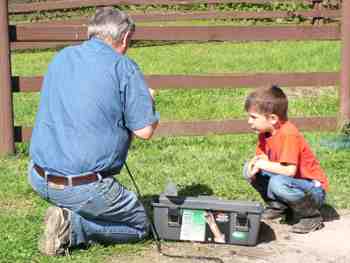 Our grandson Graham was fascinated watching Trev setting up his shears.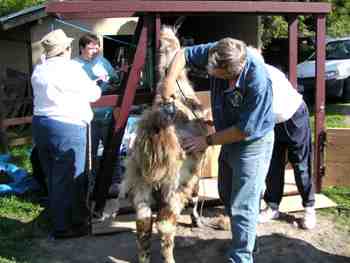 Driz was not impressed being in the chute but stood really well once the side was opened .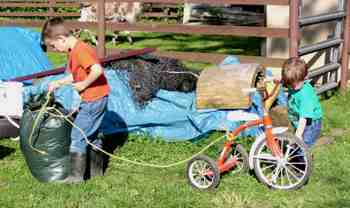 Graham and his younger brother Ethan decided that they should haul away the bagged fibre by tying a rope to their tricycle.

The next day . . .
On Monday morning a TV crew arrived to film a segment on the farm. For some reason everyone laughs when I tell them that it is for a program called "Very Odd Jobs". They tell me that it will be shown on the Learning Channel.

After they filmed the llamas out in the fields, they photographed Jane setting up the packs on Pizarro.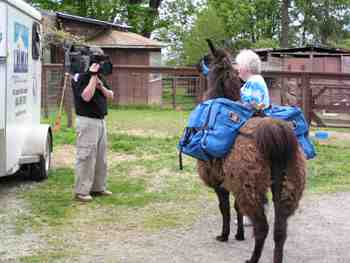 Jane walked Pizarro around for a while with his packs on.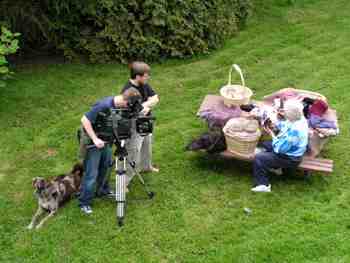 There were all sorts of fibre items still not packed away from the day before so it was easy to find some samples for Jane to explain for the camera.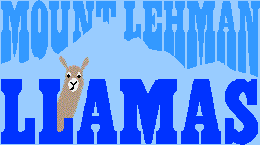 Brian and Jane Pinkerton
29343 Galahad Crescent
Mount Lehman
British Columbia
Canada V4X 2E4

Phone: 604-856-3196
E-mail address: brianp@smartt.com


Mount Lehman Llamas Home Page • Farm Page • Llama Question and Answer Page