Occasionally it snows in Mount Lehman.

We thought you'd like to see what it looks like.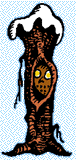 T doesn't snow here every winter, but when you live almost at the
peak of an eight hundred and twenty-five foot mountain, you
can expect a few days when the ground is white. We enjoy the
cold weather even though it makes feeding the llamas a little
tougher. Every once in a while we get caught off guard and the
water freezes. It is a lot more work then as we have to pack
buckets of warm water to all of the fields. It is nice though,
to stoke up the wood stove, then sit back and watch the snow
building up everywhere, just as it is on our logo above.




The older girls have enough sense
to stay inside when there is a good snowfall.
They can kush in the doorway
and watch the world go by.
(January 1, 2004)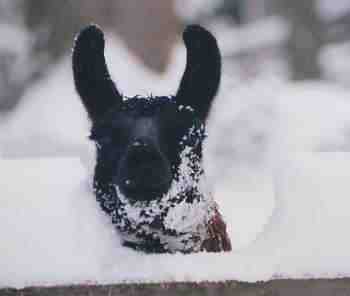 Pizarro came to peek through
the fence on the off chance
that I might have a llama cookie
in my pocket.

This was in January of 2002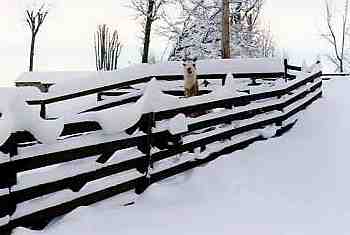 Misti was one of the first llamas
we purchased. He lived until he was
eighteen years old and didn't mind
the snow at all.
(1991)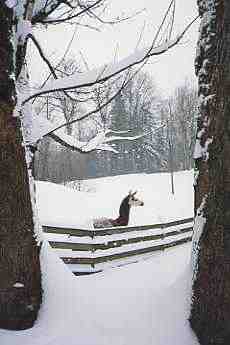 We got Cholo along with Misti
in 1981. He also doesn't mind the snow.
(1991)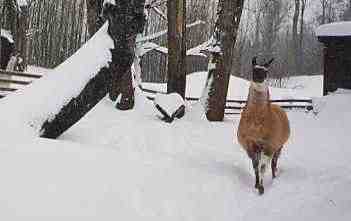 Lazo wasn't wandering
too far off of his path this year. (1991)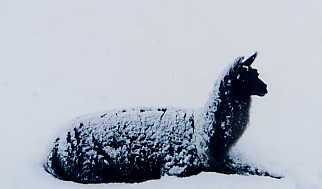 Pizarro, like many of the others
prefers to sleep outside, unless
it is really cold and blowing.
(1999)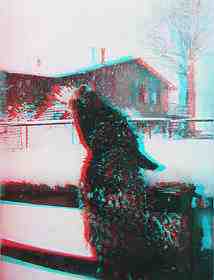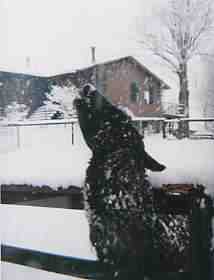 Ambassador didn't let
the snow deter him from
checking the girls through
the fence.
(2002)







If you have a pair
of red/blue glasses
you can see the version
on the far right in 3-D.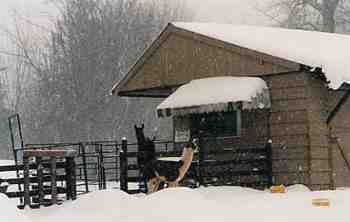 This young guy is wondering
if he should really go out into
that white stuff. That year was
really cold and both parts of the
dutch door on the north side of
the barn are closed.
(1996)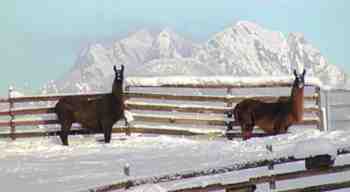 The sun came out on New Year's Day
and a couple of the girls
were out enjoying the weather.
(2004)

In the photo below, Brandy is showing her daughter Burgundy '95 and Domingo how to get around in the snow. (1996)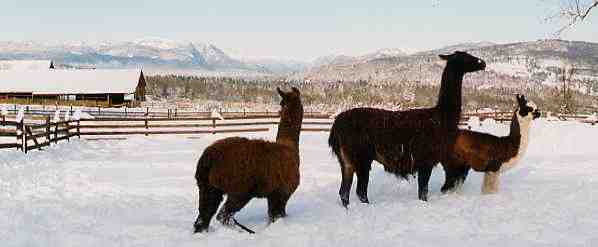 The farm looks better in the snow than it does in the rain but it is really pretty in the autumn
and peaceful and warm in the spring.

Slide show of our farm in the fall and winter.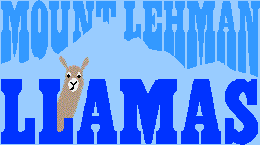 Brian and Jane Pinkerton
29343 Galahad Crescent
Mount Lehman
British Columbia
Canada V4X 2E4

Phone: 604-856-3196
E-mail address: brianp@smartt.com


Mount Lehman Llamas Home Page • Farm Page • Llama Question and Answer Page