Sometimes it even rains in Mount Lehman.

It's not pretty, but this is what it looks like.
We don't mind the April showers, it's the January downpours that makes us just want to stay inside. When our little creek which is usually about three feet wide, overflows and covers the bottom pasture, it is time to pray for some dry weather. Luckily our rainy season usually seems to only last from about October until May but some years it is really wet. As I am writing this in mid-February, 2002, there has been continuous rain for the past couple of days with well over two inches each day. The weather report just said that there had been over 100 mm in our area so that must mean we had about four inches of rain today. The fields are getting really muddy. Sigh . . .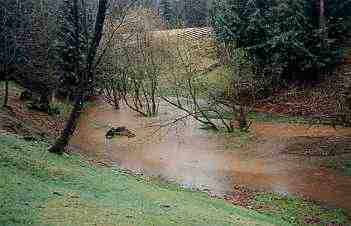 This is our flooded lower field
after two days of heavy rain

We don't let the llamas
down here in winter as it is
just too wet usually.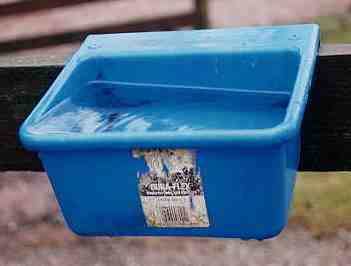 The water in the feeder on the fence
was overflowing after a day and a half
of continuous rain in February.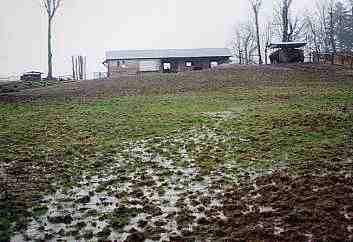 The main field where the females are
was saturated with water this year.
even though it is sloped, the grass.
just got stomped into mud. The llamas
don't spend much time outside
in these conditions.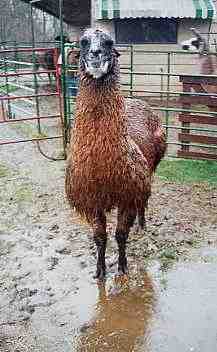 Spirit Dancer doesn't look
too spirited in this unrelenting rain.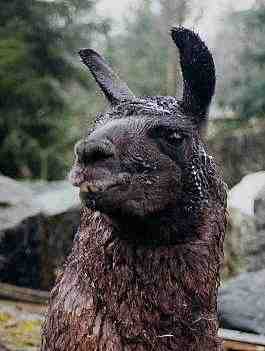 Pizarro looks as if he is soaked
but underneath all that fibre he is
actually quite warm and dry. He has a
shelter he can go in, but prefers to be
outside, usually under a tree at night.
It has to be really bad before he stays
in the shelter.

The farm looks better in the snow, colourful in in the autumn, and peaceful and warm in the spring.

Slide show of our farm in the spring and summer.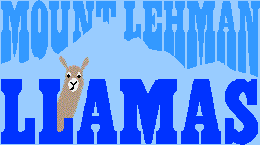 Brian and Jane Pinkerton
29343 Galahad Crescent
Mount Lehman
British Columbia
Canada V4X 2E4

Phone: 604-856-3196
E-mail address: brianp@smartt.com


Mount Lehman Llamas Home Page • Farm Page • Llama Question and Answer Page