Autumn in Mount Lehman is beautiful.

The photos below will give you an idea how nice it is.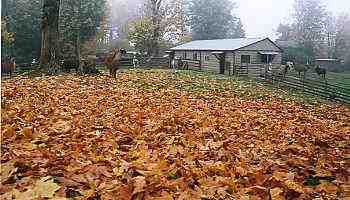 Every fall it takes about
a whole month to clear up the leaves.
This is one of our typical fields.

This was a foggy morning
in November of 2002.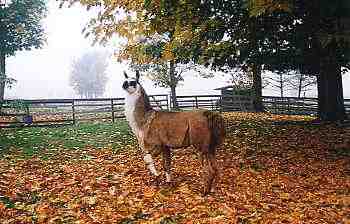 Conquistador has a few maple trees
in his field which give him nice shade
in the summer.

I can clean up the leaves in his field and
two days later it looks exactly the same.

Notice all the leaves still on the trees.




RainDancer loves to lie in the dry leaves.

Naturally they stick to his fibre.
Sometimes it looks as if the leaves
have been sprayed on.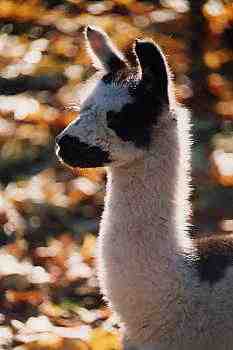 Occasionally we can get creative with cria names
and Autumn Leif's name was a natural.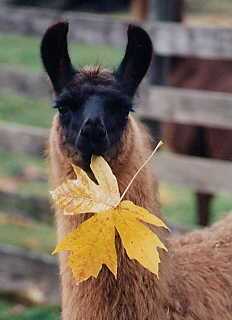 Shania Twain
decided to try
tasting one
of those
maple leaves.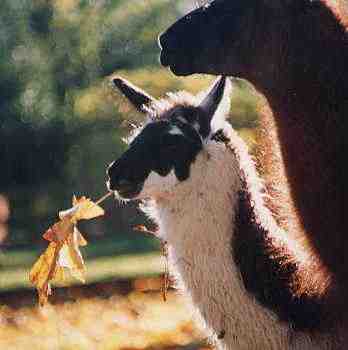 Wandering Star also picked up
a leaf under the watchful eye
of his mother.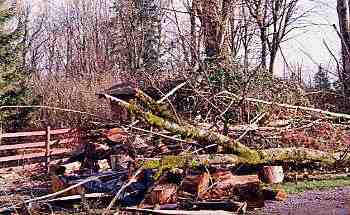 The one worrying thing about the autumn
is that some years we get some big winds.

One year a couple of maples fell over
just missing the fence and the wood shed.

The good part was that it landed
right on a pile of wood waiting to be split!

The farm looks cool in the snow, pretty soggy in the rain, but peaceful and warm in the spring.

Slide show of our farm in the fall and winter.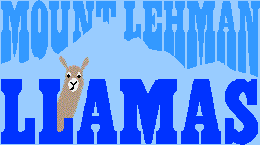 Brian and Jane Pinkerton
29343 Galahad Crescent
Mount Lehman
British Columbia
Canada V4X 2E4

Phone: 604-856-3196
E-mail address: brianp@smartt.com


Mount Lehman Llamas Home Page • Farm Page • Llama Question and Answer Page