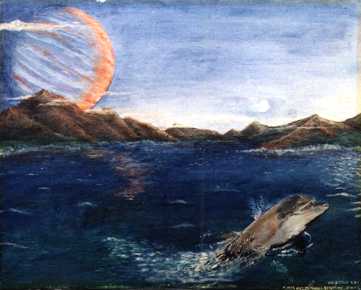 The name of this painting is "Flipper goes to Mars or Startide Rising". Maybe you can figure it out.


Click here for a close-up of Flipper.

16" x 20" oil on canvas board
Artist: David John, 6/84


Update




Thanks to Starr Cash who raises alpacas at Venezia Dream Farm in Asheville, NC. She wrote:

. . . I recognized (kind of) the Flipper goes to Mars! Startide Rising was a Sci-Fi novel by David Brin. It was published in 1983 and your painting is not the cover art but . . . maybe it was an "also-ran".