We found this great bald eagle painting in a thrift shop in Ogden, Utah. I love the way it posed beween the hills.

Sometimes when I look at this painting it appears to be a Canada Goose instead of an eagle.

24" x 18" oil on canvas
Artist: Murdock '91




To give you an idea of what we go through to keep the paintings in our galleries in pristine condition, we have included a scan of this painting as it looked shortly before our last big show.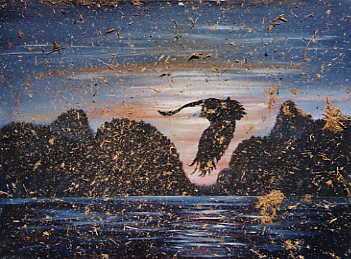 The mess on the painting is a result of it being right over the hay feeder in our quarantine facility for a few months, where we had a very spitty pregnant female llama who was trying to disuade an amorous male llama.
It might have been more effective if she had spat at him instead of the eagle.
Scroll down for a close-up view.

At this point it is just dried-on chewed-up hay and there is no smell to it. When it is fresh, it is not a particularly pleasant fragrance.
To see another type of problem we have with this painting, have a look at this . . .