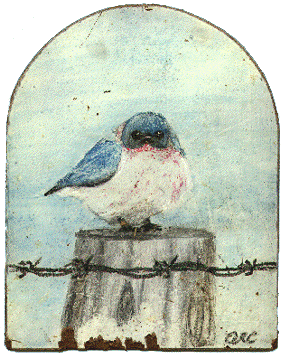 This little bird is stuck on the fence post because it is too fat to fly with those tiny wings.


The chips along the bottom are where a llama chewed on the painting.


Obviously we hadn't sprayed the painting for a while with our special mix of water and llama droppings.


6" x 8.5" acrylic on mahogany panelling
Artist: arc

Update

Thanks to Sarah Jahn of Pittsfield, Massachusetts who wrote:

Thought you would be interested to know that the "Little Bird" painting is a, um, either rip-off or tribute (depends on your viewpoint I guess!) to a famous photo by Michael L. Smith. This photo I believe first appeared in the illustrious National Geographic Magazine. Here is a link to a store that sells Mad Bluebird stuff up the wazoo, and has a cute story about the guy who took the photo.